OST to PST Converter Pro - A File Conversion tool to Covert OST Files to PST, Also supports Repair & Recovery
OST to PST Converter Pro is now officially available for world-wide users who are looking to convert, migrate, repair and recover OST files to PST efficiently!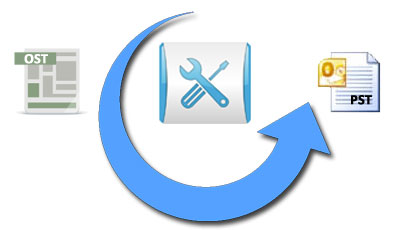 Are you looking for a way to properly convert and migrate OST files to PST and don't know where to start? Are you tired of partial or inaccurate conversions by competitive OST to PST converter Tools?  Do you need a real, step by step tool to accomplish a successful conversion from OST to PST?
If you're looking for a genuine tool to provide with a professional user experience in converting your files from one format to another, mainly OST to PST, then we warmly recommend our revolutionary product, the OST to PST Converter Pro.
 Allow us to offer you a quick guide on what you can accomplish with this product and what you will never have to face again in terms of performance, economical cost and accuracy of conversions:
What you

 

GET with the OST to PST Converter:
A genuine conversion and migration of OST files to PST, this means that at the end of the conversion process, you are provided with clean, read-able content mirroring the original files.
You can convert any OST file you need with this tool from: emails, contacts, notes to calendars, journals or any other type of file that you need to convert and have on you in the future.
Converting your OST files successfully is one thing, but the OST to PST Converter has been developed to meticulously preserve these items in the process and never worry if the final results will please your or not, because it will.
The OST to PST Converter is also discreet and attentive with details, so it can arrange your messages by the following categories: From, To, Subject, Date, Type and Attachments.
We also understand that people are impatient and busy, needing their results quickly and not have to wait long hours for their results. The great news is that with the OST to PST Converter you don't have to! With the multifunctional tool you can process multiple files at once, up to 60 in one go, this batch will be ready for you in just a few minutes!
Unicode content can become such a hassle for mediocre tools that are not professional enough to handle a multitude of languages. With the OST to PST Converter on the other hand, you can convert any language, including language with double-byte characters such as: Chinese and Japanese.
The OST to PST Converter Pro is not only a professional software, but a tool that own organization skills, which means that it can transfer multiple calendar and contacts files into single Outlook "Calendar" or "Contacts" folder, once the conversion process has reached its end.
What you DON`T get with the OST to PST Converter Pro:
No incomplete/chopped or unreadable OST file content
No bugs or errors in converted PST files
Not having to wait hours to convert a few GB of OST files
Unsuccessful conversions/migrations
Software crashing in the process of conversion and recovery of OST files
No lost files and items in the process
No empty promises with the OST to PST Converter Pro
Things don't have to be or seem impossible, you can convert and transfer unlimited OST to PST files , you can preserve your items successfully, you can convert even Unicode content, you can do all of this and more with the OST to PST Converter, all you need to do is use it and you'll finish up your work load in no time at all!
System Requirements of OST to PST Converter
Supports Exchange 5.0 to 2010.
Compatible with Outlook 97 to 2010. ( Note : OST files from Outlook 2013 are not supported.)
Supports OST files created by Exchange ActiveSync.
Compatible with Windows 7, 8 and Windows Server 2003 / 2008 / 2012.
Both 32bit and 64bit operating systems are supported.